The Folders and Tables browser allows you to view and traverse the hierarchy of folders and tables that you have access to, and perform actions on those items.
The 1010data Folders and Tables browser is located on the left side of the screen when you log in.

It is essentially a file browser that lists all of the items that you have access to, including:
Folders ()
Tables ()
Quick Queries ( and )
Custom reports ()
Merged tables ()
At the top of the Folders and Tables browser is a toolbar that allows you to perform actions such as uploading tables, creating subfolders, and moving or deleting tables. You may also search for tables or queries from here.

Traverse the folder hierarchy by single-clicking the triangle icon to the left of a folder name to open it (
) and to close it (
), or by double-clicking anywhere in that folder's row.
The Folders and Tables browser displays the number of items that a folder contains: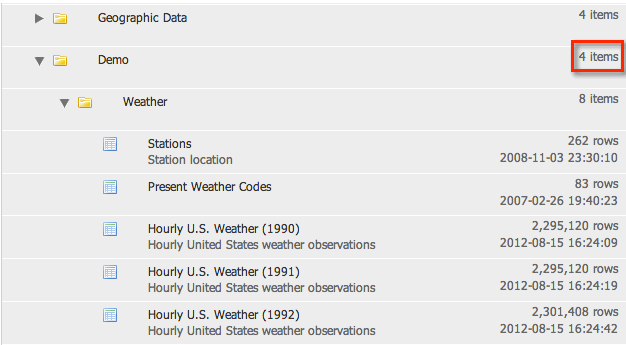 It also shows how many rows each table has as well as the date and time that table was last updated:
You can select a particular item by clicking on it. A selected item is highlighted in blue, and the full path for that item appears underneath the toolbar.
Note:
The full path of an item is often referred to as its
name
, which is different from its
title
. In the example below, the table
name
is
pub.demo.weather.hourly90
, and the table
title
is
Hourly U.S. Weather (1990)
.
The actions associated with a selected item appear next to its name underneath the toolbar:
The actions associated with a selected item may include:
view info

- This brings up a dialog that displays information about the selected item.

edit info

- This brings up a dialog that allows you to modify the properties of the selected item. (This action is only available if you own the item or have permission to modify it.)

add favorite

- This action adds the selected item to the list of

Favorites

on the

Start Page

.

remove favorite

- This action removes the selected item from the list of

Favorites

on the

Start Page

(if it had been previously added).

edit query

- This action opens the

Save As a Quick Query

dialog. (for Quick Queries only)

download queries

- This action downloads a text file (

download.txt

) containing the selected query to your computer. (for Quick Queries only)
You can open any item by double-clicking on it. The item will be opened in a new tab, and the panel that contains the Folders and Tables browser will be hidden (unless it is pinned). It can be brought back into view by clicking the show browser icon (
) on the left side of the screen:
If you want to hide a Folders and Tables browser that is currently displayed, click the hide browser icon (
) in the top right corner of the browser:
If you want the Folders and Tables browser to remain displayed at all times (and not be hidden when an item is opened), you can pin it in place by clicking on the pin icon (
):