Arranging columns
You can display a subset of the columns in a table and specify the order in which they appear.
You can rearrange, hide, and show columns. This changes only how your worksheet is displayed and does not affect the original table in any way.
Note:
Fixed columns will always appear before all other columns.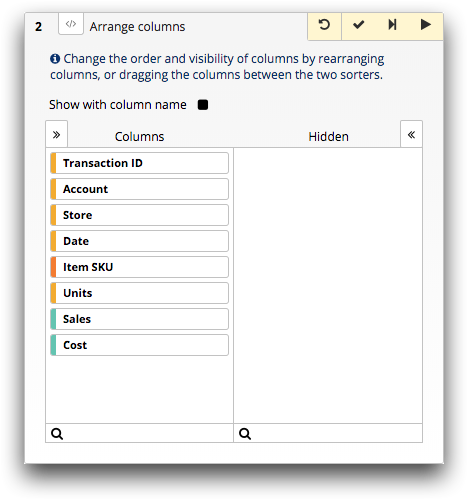 Show with column name

By default, columns are identified by the column label. Select this option to display the column name instead of the label.

Hide All

Click the

Hide All

() icon to move all of the columns to the

Hidden

section.

Columns

The

Columns

section shows the columns that are currently visible in your table, in the order they are displayed from left to right, including computed columns and columns that have been linked in from other tables or worksheets.

Hidden

The

Hidden

section shows any additional columns contained in your worksheet that are not currently displayed.

Show All

Click the

Show All

icon () to move all of the columns to the

Columns

section.