Amend column panel
The Amend column panel allows you to choose a column and enter a value expression to replace values in a table or worksheet.
The
Amend column
panel is accessible from the following locations in the
1010data Insights Platform
:
Analysis Timeline in the Trillion-Row Spreadsheet
Right-click menu in the grid
It is important to note that the Amend column panel available in the grid is visually different from the panel in the Analysis Timeline. While the panels vary slightly from one another, the available fields and functionality is identical. For illustration purposes, this topic shows images of the Amend column panel as it appears in the timeline.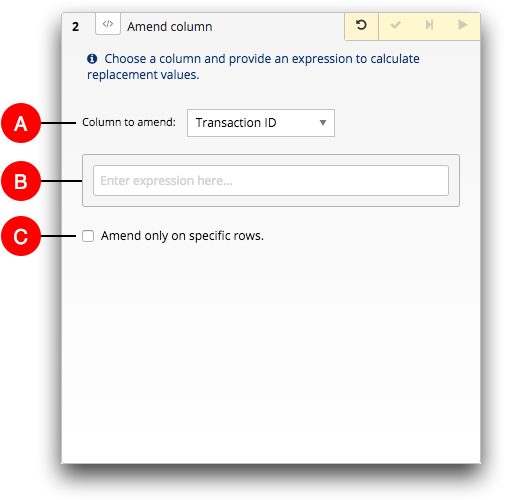 A. Column to amend

This drop-down list contains the columns in the table or worksheet. By default, the first column in the table or worksheet is listed first in the drop-down list.

Use this drop-down list to select the column containing the values you want to amend.

B. Expression Editor

The Expression Editor field is used to enter a value expression.

Enter a value expression to recompute the values in the selected column. For more information, see Writing Expressions in the 1010data Reference Manual. For more information about the Expression Editor, see Expression Editor.

C. Amend only on specific rows

Select this option to apply the value expression to only certain rows in the column.

When the Amend only on specific rows option is selected, a second Expression Editor field appears in the panel. This additional Expression Editor field allows you to define the specific rows to which you want to apply the amend operation.